Ottumwa
Ottumwa RE/MAX PRIDE Office:
2437 Northgate St
Ottumwa, Iowa 52501
Wapello County
Phone: 641-683-3777
Ottumwa Area Information:
Known as the City of Bridges, Ottumwa is located in southeastern Iowa along the Des Moines river. It was established in 1844 as a river-front, coal mining town. It was then named, and still is, the county seat of Wapello County. Ottumwa grew quickly after coal was mined on the McCready bank along Bear Creek. The coal mining industry expanded and soon some of the top coal producers in the state including Brown and Godfrey and Philips Coal Mining Company called the city home.
Ottumwa continues to be a growing community with a strong industrial base. Many of its residents and new comers to the city seek jobs at national corporations such as John Deere Ottumwa Works and JBS Pork. New residents are also attracted to Ottumwa's low cost of living, expanding commercial districts, its outstanding educational opportunities, and abundant entertainment choices.
Approximately 25,000 people make up the population of Ottumwa. Along with the tourists who visit, residents enjoy many historical attractions and recreational opportunities. The Airpower Museum provides a look back in time as well as chances to see antique planes and flying events. Visit the Wapello County Historical Museum for a look at the start of Ottumwa and many of the other towns in the county. One of the most noticeable and modern attractions in the city, the Bridge View Center provides residents with a place for meetings, concerts, and many cultural and social events.
Indian Hills Community College makes its home in Ottumwa and provides an abundance of educational opportunities for students from all over the state. Ottumwa also boasts its numerous choices in outdoor activities such as camping, picnic areas, playgrounds, fishing, bike and walking trails, soccer fields, disc golf and much more. It has nearly 3 times the national standard for acres of parkland per 100 residents than other cities its size.
Once you've found your home in Ottumwa you won't want to miss other locally owned businesses and restaurants such as Appanoose Rapids, Grahams Dairy Freez, and the Canteen Lunch in the Alley which inspired the restaurant in the hit TV show, Roseanne. The Beach is also a popular attraction during the summer and draws visitors from all over the area.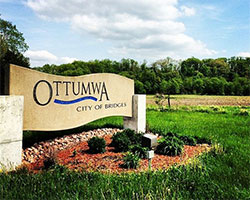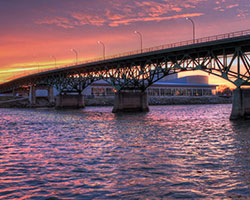 We can show and sell any listing in Iowa and Missouri.
Testimonials
"My wife and I lived in the same community as John. We tried to sell our house by ourselves for 2 years before we decided to list with John and Remax. During those two years, John would stop by frequently to see if we would be interested in listing our home with him.
Click here to read more.